Oakwood Summer Festival Had it All!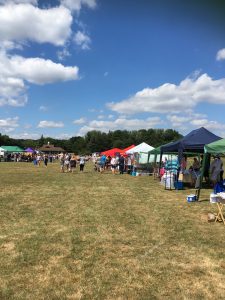 The excitement of summer brings about the Oakwood Festival on my local patch each year. This year was always going to be different though:
Now run by the residents association it was their debut and it was carried off smoothly
The sun was shining on a glorious hot day
The event was later in the day running from 1-6pm
Thankfully for me, it was held on the middle Sunday of Wimbledon so no tennis meant I was committed
For those who have previously attended it was a welcome change from the wet weather of many of other years where it has even had to be cancelled on occasions! Sadly, the heat meant the dog show couldn't take place and there were no donkey rides, but animal welfare must come first.
Events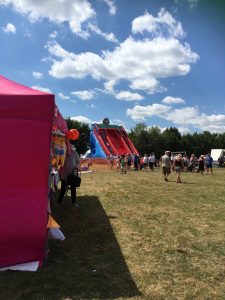 Lots of charities were in attendance as always and it was great to learn of their work. There was singing; a DJ; dancing; hula hooping and many other forms of entertainment put on by the locality. Food was readily available and the Community Centre was turned into a bar!! Amazingly the stall that looked like a beach shop did a roaring trade due to the hot weather.
I was amused to see lots of people carrying Slimming World bags attending the Sweet Stall!
The bouncy slide was popular with the children and thankfully it went off safely, I am happy to say and was well supervised.
There was a demonstration of how to use the local defibrillator towards the end of the day.
Oakwood Literature Festival Stall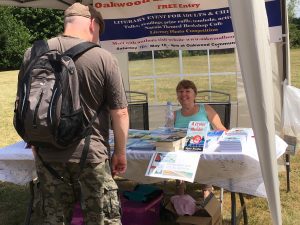 The new pop-up gazebo worked a treat and was easily put up, if not by me! The stall was situated in the corner of the field, and being next to the sweets stall, it was bypassed by many! I did have some lovely conversations with local residents about the Literature Festival, though. I sold a few books too which adds icing to the cake. It was a lovely afternoon out – albeit a little on the sweltering side. I was glad to get home and take a shower!
Well done to the Oakwood Residents Association for putting on a lovely day out – see you next year!
The Oakwood Literature Festival will be held on Saturday 18th May 2019 and information can be found on the website and via the Facebook Page.