Great Cruise Book Reads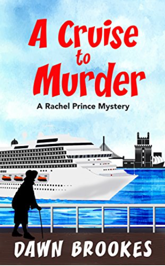 Having been a cruiser for the past 10 years, I like nothing more than sitting on the balcony or in one of the many rest areas around the ship and reading a good book. Now I've started my own cozy mystery series set on a cruise ship, I have been looking at other books where cruises feature. I've been amazed at just how many there are!
There are some that I probably wouldn't read while on board, particularly tense thrillers by Mary Higgins Clarke but you might not be so squeamish. Others that involve ships sinking might not be my favourites either. Both of these I would read when safely ensconced on land, however.
For me, there are a number of good ones that I have recently discovered and I have provided a few here that you might like to take a look at. My books A Cruise to Murder and Deadly Cruise, obviously go without saying, if you like a good clean murder mystery.
Other cozy's include a series by Hope Callaghan that centre around a middle-aged, nosey assistant cruise director who finds herself solving mysteries while touring the Caribbean. The first three are available as a box set, I think there are around 14 in the series. They are fun, light reading and I have enjoyed reading a few of them. The plots are simple and there is no real tension so if you prefer something more gripping you might need to look at some of the others in this list.
Death on the Nile by Agatha Christie has to be a cruise reader's favourite. A classic novel involving a murder during a cruise down the Nile which is investigated by the famous Hercule Poirot.
Deep Sea Dead by Lori Avocato is a recent discovery, which I confess I haven't read. I will be reading it soon though because, like mine, it features a nurse on board ship. This nurse goes undercover to investigate some shady goings on and ends up investigating a murder. My books feature a nurse as a supporting character to my main protagonist so this one has grabbed my attention for a read. If you get to read it before me, let me know what you think of it.
If you do prefer a more tense read, Mary Higgins Clarke has written a few books set on cruise ships, her latest being All by Myself, Alone. The story follows a transatlantic cruise where a death and a robbery take place. These are investigated by Celia Kilbride, a jewellery expert.
If you like historical context, a recent wartime novel is that of The Ocean Liner. It involves as escape from war torn Europe to America aboard a luxury liner. Two cousins are seeking to escape the concentration camps along with other passengers who are fleeing the war too. Secrets and peril abound as the ship is stalked by a German U-boat.
There are many more books set on cruise ships than I could possibly read. I seem to be discovering new ones every day, not to mention my own series that will grow for the foreseeable future. There are plenty of books to choose from. The second book in my series is available now.