Cruising is Fun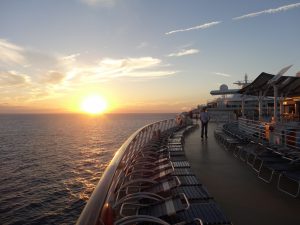 Contrary to the experiences of the protagonist, Rachel Prince, in my new series of murder mysteries, cruising is fun. I took my first cruise around ten years ago. Like anyone who has taken a cruise I wondered if I would be bored during sea days – boy was I surprised!
Activities
There are activities galore on cruise ships and they are geared up to providing entertainment or relaxation for passengers day and night. If you are a fitness fanatic like my protagonist Rachel Prince, many ships have gyms and running tracks. The majority of medium to large cruise ships have indoor and outdoor swimming pools for all the family. There are also jacuzzis.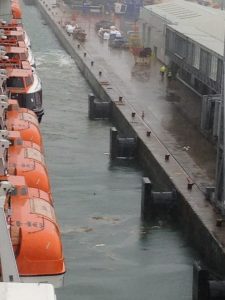 On top of this there are talks throughout the day for those who want to learn something new; dance lessons; quizzes; art auctions; gaming lessons; golf simulators; kids clubs and so on…..
If you want to relax, there are quieter areas scattered throughout most ships and spas where you can have your hair done or go for beauty treatment (all quite costly).
In the evenings there is a theatre show, bars with entertainment, bands playing throughout the ship and a disco for the more active. Many ships have either an indoor or outdoor cinema too.
Food & Drink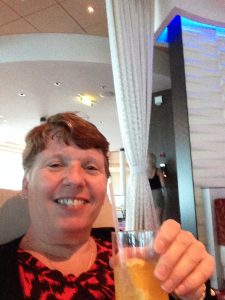 There is never a shortage of food and drink on a cruise ship and the majority is included in your stay. You can choose to dine a la carte both lunchtime and evening, or there is the all day buffet that serves food morning to night, a grill bar near to the pools, ice cream bars etc. If you want a bit of luxury and are willing to pay a surcharge there are usually specialty restaurants such as Italian, Indian, Chinese, Steakhouses… But don't worry, the buffet has specialty days throughout the cruise where you can sample some or the world's best cuisine.
Beware those cocktails though, they come with a hefty price tag! Pre-cruise drinks packages are a great idea and can include soft drinks for kids.
Staterooms
For me personally, I would never cruise without a balcony suite but there are more economical options with inside staterooms (bear in mind there are not windows or portholes), or staterooms with portholes. If you don't mind the dark and are planning to be out all day anyway, these rooms are not that bad. If you can afford it though, get a balcony suite. There is nothing like opening those balcony doors and sitting out with a drink watching the sunset or sunrise. 
There are also family suites and luxury suites so something for everyone. If you are travelling as three adults you can ask to share a balcony stateroom as they all have sofa beds that can be made up. You can opt for double or twin when you book.
Why Rachel Prince Mystery Series is set on a Cruise Ship
The main reason for this is that I love cruising and obviously need to do more cruises for research purposes! In many ways a fictional series set on a cruise ship is an eye-opener and I wanted to explore life upstairs and downstairs. The first book introduces this concept and will be explored further in future books. I could have had a protagonist that worked on a cruise ship but that would have missed the passenger experience. I opted for the main protagonist to be a passenger (although this may not work for a long series), and her best friend to work as a cruise ship nurse. That way, the books can explore both worlds while delving into a variety of murder mysteries. There are some characters who will feature regularly and some who will come and go (or die)!
Ports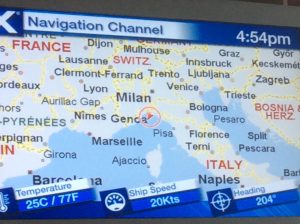 The wonderful thing about cruising is that you can wake up in a new place or country every morning! If you prefer not to lounge on a beach all day then this is the life. When in port, you can choose to take one of the many tours arranged by the cruise line or you can do your own thing – I tend to do a mix of both. 
Cruise Line Options
Cruise lines I have sailed with are Fred Olsen, Princess Cruises, NCL (Norwegian Cruise Lines) and Celebrity. I plan to sail with Cunard in the not too distant future and know people who have sailed with them and with P&O. There is a plethora of cruise lines and destinations to cruise to and from. You can fly/cruise or cruise only.
There are smaller cruise ships if you prefer a more intimate feel and huge if you want non-stop activity. For numbers of activities NCL and Princess appear to top the list but don't take my word for it – try for yourself. There are some themed lines such as Disney and bigger ships like the Independence of the Seas the choice is yours.
There is so much more to say about cruising – give it a try!
Rachel Prince Mysteries
If you are interested you can take a look at my cruise ship mystery book 1, A Cruise to Murder. Book 2, Deadly Cruise will be released later this year.
Products from Amazon.co.uk