Oakwood Summer Festival Had it All!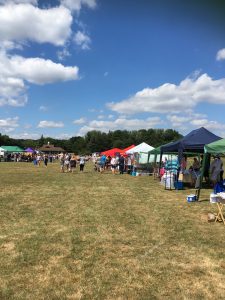 The excitement of summer brings about the Oakwood Festival on my local patch each year. This year was always going to be different though:
Now run by the residents association it was their debut and it was carried off smoothly
The sun was shining on a glorious hot day
The event was later in the day running from 1-6pm
Thankfully for me, it was held on the middle Sunday of Wimbledon so no tennis meant I was committed
For those who have previously attended it was a welcome change from the wet weather of many of other years where it has even had to be cancelled on occasions! Sadly, the heat meant the dog show couldn't take place and there were no donkey rides, but animal welfare must come first.
Events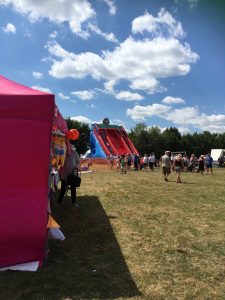 Lots of charities were in attendance as always and it was great to learn of their work. There was singing; a DJ; dancing; hula hooping and many other forms of entertainment put on by the locality. Food was readily available and the Community Centre was turned into a bar!! Amazingly the stall that looked like a beach shop did a roaring trade due to the hot weather.
I was amused to see lots of people carrying Slimming World bags attending the Sweet Stall!
The bouncy slide was popular with the children and thankfully it went off safely, I am happy to say and was well supervised.
There was a demonstration of how to use the local defibrillator towards the end of the day.
Oakwood Literature Festival Stall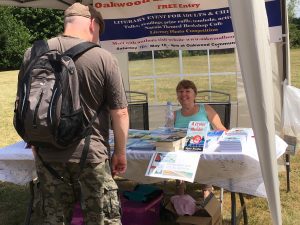 The new pop-up gazebo worked a treat and was easily put up, if not by me! The stall was situated in the corner of the field, and being next to the sweets stall, it was bypassed by many! I did have some lovely conversations with local residents about the Literature Festival, though. I sold a few books too which adds icing to the cake. It was a lovely afternoon out – albeit a little on the sweltering side. I was glad to get home and take a shower!
Well done to the Oakwood Residents Association for putting on a lovely day out – see you next year!
The Oakwood Literature Festival will be held on Saturday 18th May 2019 and information can be found on the website and via the Facebook Page.
Derby Book Festival 2018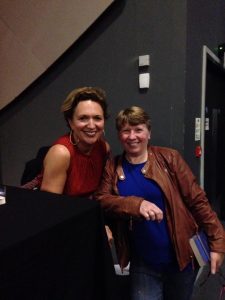 I managed to get along to a few events at the Derby Book Festival this year, I was especially interested to compare and learn from the event in relation to our own festival The Oakwood Literature Festival which was launched a few weeks before for the first time.
The main differences were obviously price – our festival is free entry and lasts for a day, the Derby one is paid for entry to each session and runs for over a week. Ours is also for Indie authors and the Derby one is for the bigger names in the writing and publishing world. There the differences end because the quality of the books at both is no different. The reviews are also no different except that with the bigger names, they can generate more reviews due to the marketing and publishing companies behind them.
Sessions Attended
#1 Flu Pandemic 1918
The first session attended, for me had to be one relating to health because of my nursing background. We have been preparing for years for the next big pandemic and this book is a stark reminder as to why that should be.
The format of the session was interesting as Catharine was interviewed by a Scottish professor from the University of Derby. Highlighted was the sheer scale of the pandemic and the worldwide deaths that took place. There were two things of note that came out of the research for the book:
1) Because the pandemic was at the end of the worst war in living memory, the pandemic is forgotten by many as the focus has always been on the war ending. This virus termed 'Spanish Flu' wiped out over 50 million people worldwide and in many countries killed more people than World War I! I can say, from experience that the people who didn't forget were those that lost relatives. During my nursing career, almost every elderly person I nursed lost someone in the pandemic whereas not everyone lost someone in the war – I remember one gentleman who lost both his parents to the pandemic flu of 1918 that scourged the earth for a year after the war. Needless to say, I bought the book and had a brief chat with the author at the end of the session. Catharine Arnold specialises in historical non-fiction.
2) The role of nursing as a profession grew during this time and nurses' were recognised as professionals following this outbreak. Of course, many nurses died themselves due to their close proximity to the sufferers but they cared for the sick, undeterred by the risks.
This still happens today, nurses and doctors put themselves at the frontline in order to care for patients and, while aware of the risks, they continue to do so. Think of the nurses and doctors who treated people in the early 1980s – yours truly included, who had HIV and AIDs before there was any cure. Many nurses have contracted hepatitis in their line of work and healthcare professionals continue to volunteer to go to countries to treat people with infectious diseases such as ebola.
The only answer the author gave where I might differ is that when asked if another flu pandemic could be as bad, she suggested not. One thing is certain, if another pandemic this size does hit, it will spread far faster due to ease of travel and as these pandemics tend to hit the young rather than the old who have some immunity – it could indeed wipe out another generation worldwide. On the plus side, there are vaccines and anti-viral treatments that were not available in 1918 and these could ensure that such a pandemic does not have the same effect.
Another really good book on the subject is Pale Rider by Laura Spinney
#2 Feminist Friday
This session took place in the form of a talk by Helen Pankhurst, great-granddaughter of Emmeline Pankhurst and a women's activist. This was a measured delivery which challenged how far we think we have come with regards to women's rights in the twenty-first century. Designed to make one think, I found this session challenging and it highlighted how far we still have to go before women are treated equally to men in terms of recognition, promotion and equal pay. Helen did provide some positive strides that have been taken and the recent 'Me too' campaign seems to be having a positive worldwide impact in challenging behaviours that have previously been tolerated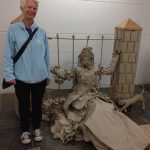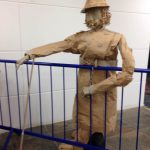 In addition to this I visited a small suffragette exhibition where lifesize models telling the story of suffrage had been created from paper.
#3 Book Fair
Derby Book Fair as Part of Derby Book Festival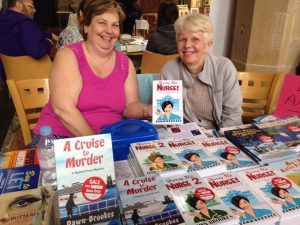 The book fair was held in St. Peters Church in the city centre and I was invited to host a stall there. We enjoyed the day and I met many people who showed an interest in the Oakwood Literature Festival and who will more than likely attend next year. It is always interesting and motivating to meet other authors and I met up with some I already knew and some I hadn't met before. All in all it was a positive day, although it wasn't as well attended as the one held last year in the Silk Mill.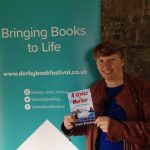 The Silk Mill is currently closed for two years for refurbishment.
#4 Mystery Fiction
I was obviously going to be interested in this talk having, myself published a murder mystery novel, A Cruise to Murder this year! Jessica's novel is based on the true story of the eldest of the Mitford sisters, Nancy and the also true, brutal murder of a nurse on a train in 1919. It is a mixture of history and fiction.
Jessica, the niece of Julian Fellowes, Downton Abbey creator will be writing six novels and each one will be based around the life of one of the sisters. Her talk was enlightening and engaging and she was very honest about some of the difficulties she is likely to encounter as she writes about each sister in turn, particularly with the two who became close to Adolf Hitler! At the other end of the spectrum one of the sisters renounced her fortune and became a communist. I will also be interested when she turns her attention to Deborah who turned Chatsworth House into the success that it is today and it is just up the road from Derby where I live.
I enjoyed listening to Jessica's take on the Mitford sisters and very much look forward to the future books in the series. The second in the series is due out in October 2018.
If you would like to take a look at my novel which has been compared to a modern Downton Abbey, set on a cruise ship with a sprinkling of murder – click on the picture.
Conclusion
I thoroughly enjoyed all of the talks I attended and I also enjoyed the talks given by authors who attended the Oakwood Literature Festival. Do join us next year on Saturday 18th May for the second FREE entry event. We will have a host of interesting authors and talks lined up, plus children's activities and events on the day.
[Top]
Launch of Oakwood Literature Festival Derby
Opening Address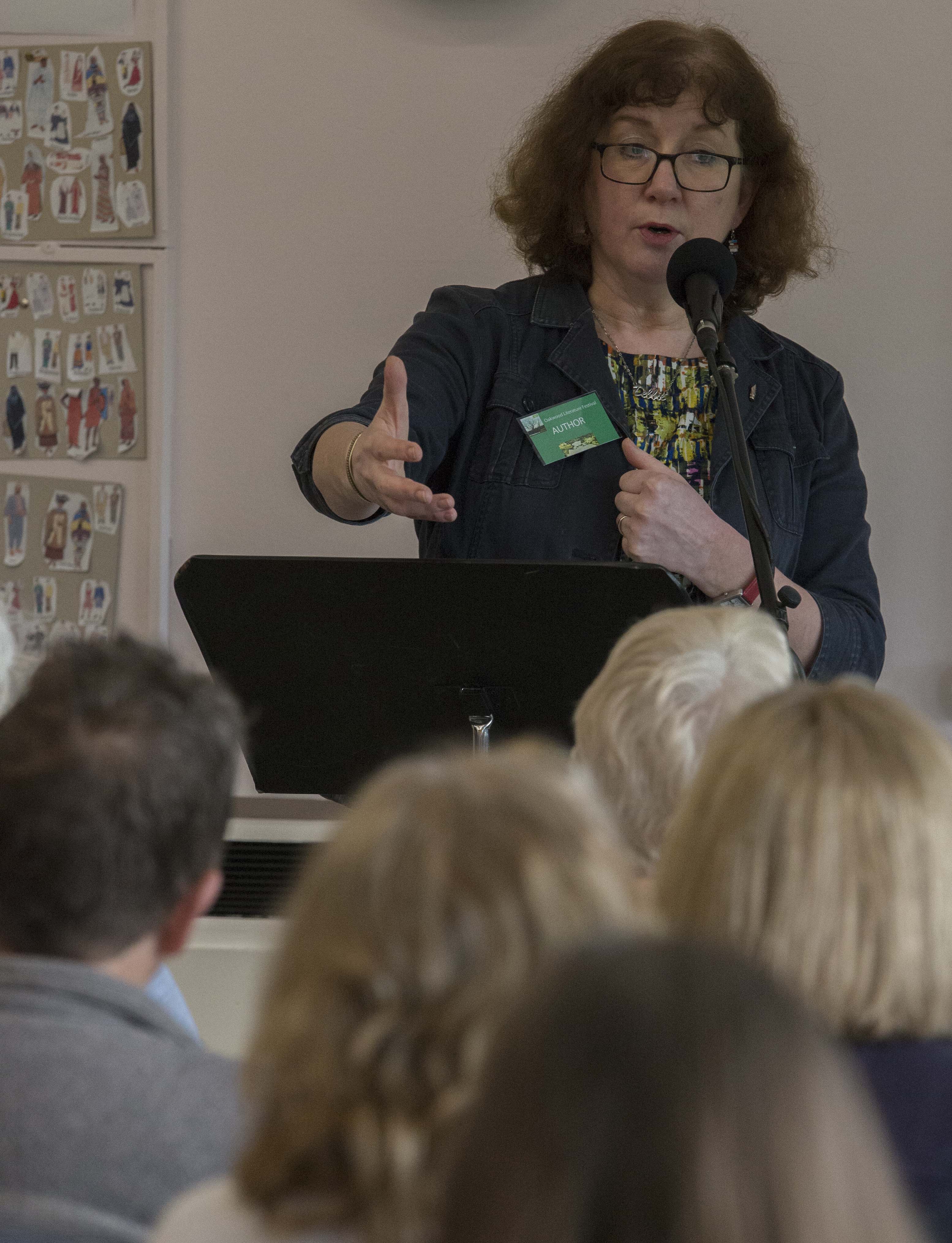 We had a great day on 12th May as the first Oakwood Literature Festival was launched at the Oakwood Community Centre in Derby. The day was opened by author of the Sophie Sayers Mystery Series, Debbie Young with a rousing opening speech. Debbie talked about the ethos of this festival being one of bringing authors and readers together by offering free entry to all. She mentioned larger festivals that have to charge entry fees due to rising costs of advertising throughout the year and the size of the events. Festivals like the one that Debbie hosts each year in Hawkesbury Upton and the one in Oakwood seek to provide an alternative to the pricier festivals where families may only be able to afford to attend one session.
New Book Launches
After this, yours truly, Dawn Brookes who is the founder of the festival introduced the day's authors and provided information about new book launches by authors present and these included:
Cafe and Activities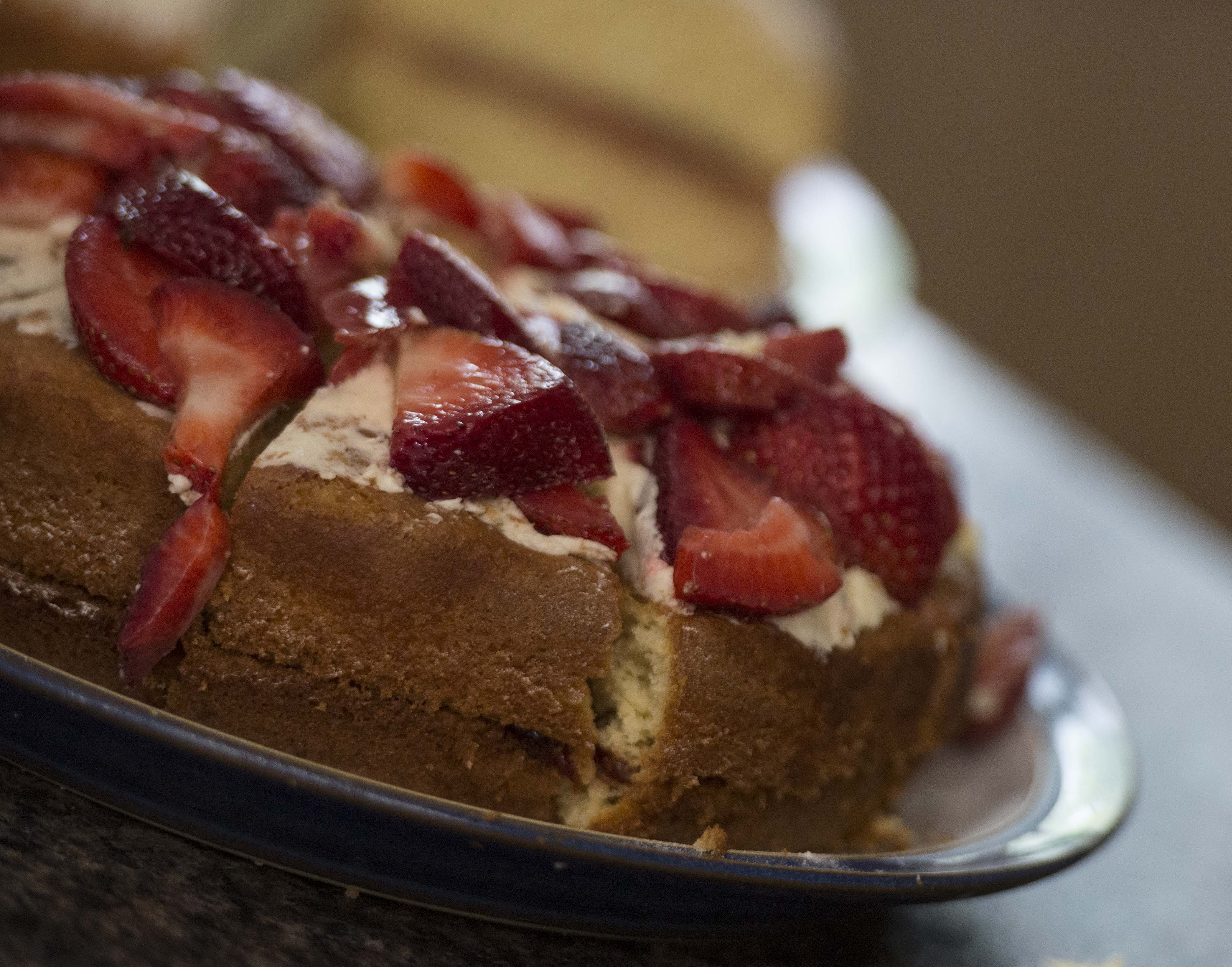 There was a Narnia themed cafe which went down very well, especially the Narnia themed cupcakes! Children enjoyed a search and find activity where they had to search for Narnia characters around the hall.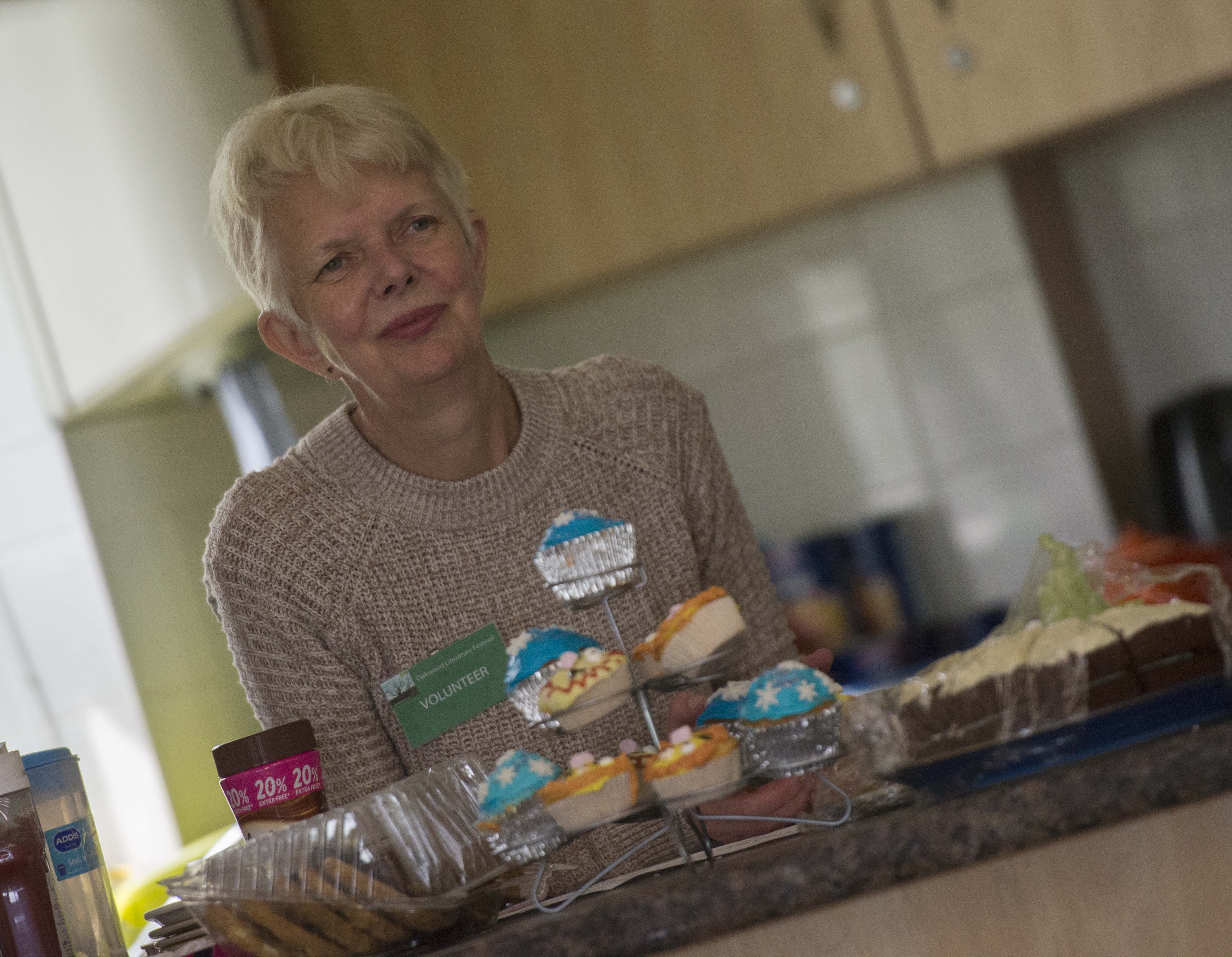 Author Readings
We had some wonderful authors attending the day from a variety of reading genres and people attending were absolutely delighted with their recitals.
The authors provided animated and excited readings throughout the day in the main hall. Children particularly enjoyed David Robertson's use of stuffed animals!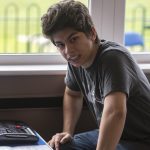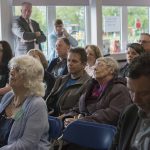 We were grateful to Adam Dundon-Innis who provided the PA expertise and managed to ensure that all of the readings were heard both inside and outside.
Panel Talks
There were four panel talks held in a separate room. These included:
Bringing history to life through books and panel members were John Lynch, David Ebsworth and Celia Boyd – the talk was well received and very enlightening. These authors demonstrated that they were truly knowledgeable historians and that they thoroughly research the eras they write about.
Captivating Memoirs by panel members Dawn Brookes, Celia Boyd and Mina Drever – this talk was also well received and a number of members of the audience had either written or were writing their own memoirs in some shape or form.
Engaging children & young adults with reading with panel members Debbie Young, David Robertson and Kate Frost was engaging as you would expect from children's authors and those passionate about encouraging children to read. Debbie Young is an informal ambassador for the Readathon charity.
Riveting fiction with panel members Debbie Young, AA Abbott, Kate Frost and Darren Young went down well and brought up some interesting points of view.
Bookshop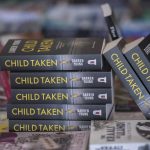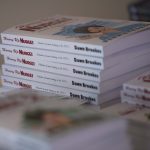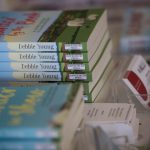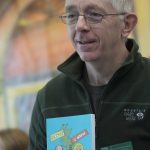 The bookshop was open all day and many people bought the authors' books. The authors gave their time freely on the day and are grateful to everyone who purchased books as it helps with expenses. We are also grateful to Susie Dundon-Innis who managed the bookshop throughout the day and read from Dawn Brookes' children's books too.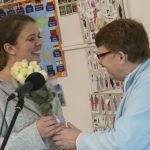 Volunteers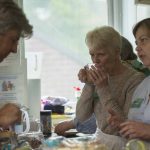 We couldn't have put on the day without the help of volunteers, some have already been mentioned but we are very grateful to Sue, Shona, Ruth and Sharon who managed the cafe throughout the day; Pauline who managed the tombola and raffle table and to Denise, the secretary at the community centre for her flexibility and support in putting on the event and allowing us to use extra rooms.
A big thanks to Angela Fitch, official photographer who also gave her time freely and provided wonderful snapshots of the atmosphere on the day. Thank you everyone.
Summary
Although we would have liked a higher attendance, it was a good first launch and we will be back next year with another one. Many of the authors attending have already expressed an interest in returning again next year. To keep in touch, please sign up for a newsletter on the main website and you can also follow the event page on Facebook.
Thank you to all of the authors who gave their time and travelled to Derby from far and wide. Look out for these names when you are shopping for books. All of their books are available on Amazon and can be ordered through bookshops worldwide.
AA Abbott – crime thrillers
Celia Boyd – historical fiction English Civil Wars
Dawn Brookes – memoirs, cosy mystery and children's books
Mina Drever – memoir dementia
David Ebsworth – historical fiction
Kate Frost – women's fiction, YA time travel fiction
Josephine Lay – women's fiction, poetry
Peter Lay – philosophical
John Lynch – historical fiction and ghostwriter
David Robertson – children's 7-11 yrs
Martin Shipley – travel memoir
Sally Wilkes – early readers
Darren Young – thrillers
Debbie Young – cosy mysteries, short stories and non-fiction
Dates for Your Diary
Saturday June 9th 2018 Derby Book Fair, St. Peter's Church DE1 1NN 10.30-3.30 – Dawn Brookes will be there with discounted books and happy to sign any of them
Sunday July 8th 2018 Oakwood Festival Springwood Leisure Park 13.00-18.00 – we will have a stall  raising awareness for next year's Literature Festival
Saturday November 24th 2018 Christmas Book Fair with cafe, Oakwood Community Centre, 118 Springwood Drive, Oakwood, Derby DE21 2RQ 10.00-15.00
Saturday May 18th 2019 Next Year's Oakwood Book Festival at Oakwood Community Centre
[Top]