Meet the Author Library talk
'Hurry up Nurse'
Local Libraries
Local libraries have suffered in recent years with regards to funding and support. They play a valuable role in any community in terms of reading, learning and access to I.T. Many libraries are coming under community control as funding has been cut by local councils, and time will tell whether this is going to work. It has been an unsettling time for those who work in libraries in and around Derby and inevitably people have either lost their jobs or found themselves relocated.
It was in this climate that I was invited to give a talk about my nurse memoir and it made it all the more special that staff were determined to provide continuity of service to the community.
Authors & Libraries
Whenever and author has the opportunity to engage with a local library, this can only be a good thing for authors, staff and library goers. People who visit libraries are often avid readers and good critics of literary works.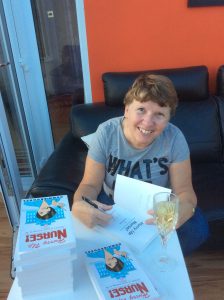 I thoroughly enjoyed the "meet the author" library talk session at a local library in Spondon, Derby. The audience consisted of 12 people from differing backgrounds. It went very well and they seemed interested in my ramblings which was a bonus!
The chat was around some of the events described in Hurry up Nurse and we finished the afternoon with tea and biscuits supplied by the library staff. I was pleased to sell some books too but I was more pleased that the attendees found the talk interesting. There were a couple of ex nursing and hospital staff in the audience as well as others and an ex magistrate. I think I enjoyed chatting to people after the session the most. All in all a very positive afternoon but it reminds me that I need to get on with the next book!
My next outing is at the Book Fair in Derby on 10th June at the Silk Mill which is part of the Derby Book Festival.
The second book in the Hurry up Nurse series is now available and follows my career to London where I experience some of the most challenging but best times of my life.
Library Reminiscences
Some of my earliest memories consist of going to the local library in Leicester where I was brought up, usually on a Saturday morning. My mum would get her supply of Mills and Boon and I would stock up with Enid Blyton books. You could always find me reading if I wasn't outside playing and of course a torch under the bedsheets was part of my staple bedtime diet! Let's not lose our libraries – we will sorely regret it if we do.